The Life and Death of King Edward
006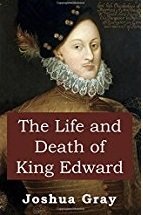 Behind every great story in history there have almost always been hidden stories. The old cliche that the "winners write history" is, in fact, quite true. And so it is, too, in the well-known matter of the Shakespeare authorship question:Was the real "Shake-speare" someone other than the actor from Stratford? Is the traditional history of "Shake-speare" little more than a false report of history? For Oxfordians-- those who believe that Edward de Vere, 17th Earl of Oxford, was the true "Shake-speare" -- this hidden story goes behind the scenes of Queen Elizabeth's court to reveal a world of political intrigue and betrayal. It also reveals how and why Oxford became "Shake-speare" at the end of his life; why he may have considered himself the rightful King Edward VII; what he was really writing about in his plays (nearly half concerned with royal rights and succession to the throne); and, most especially, what he was really writing about in his famously enigmatic sonnets. In Joshua Gray's THE LIFE AND DEATH OF KING EDWARD this story is brought to life, first in a series of poems that fill in the back story from 1548 into the 1590s, leading up to SHAKE-SPEARES SONNETS printed in 1609.. These verses are presented in a compressed form of four lines each, within the chapter-by-chapter structure of the underlying story hiding in plain sight.
Paperback: 134 pages
Publisher: Forever Press (April 28, 2017)
Language: English
ISBN-10: 0998928909
ISBN-13: 978-0998928906
Product Dimensions: 5.5 x 0.3 x 8.5 inches
Shipping Weight: 8.2 ounces
Name(s) to use when I sign, if different from buyer?